---
We had some pretty nice posters.
Five of them.
---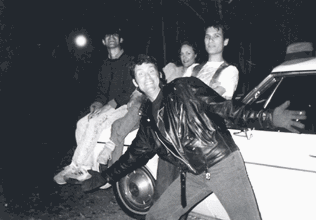 ---
News 2021 - the old worn cassette files have been replaced with the original masters! Jeri found a DAT with digital copies of the mixes (we still haven't located the multi-track taps) and John Viehweg graciously helped me convert them to digital files.
---
Shape Shifter
---
Life Through Veils
---
Uncle Wigalee
---
Download the songs here:

Shape Shifter
Life Through Veils
Uncle Wigalee

All songs ©1990, Meteoroid Music.
The Beat Meters had been a showy, and at times complicated affair, and after wrangling a six-piece dance-pop band, we wanted to do something simpler, and more down to earth. A four-piece straight ahead rock oufit was the antidote we needed to counteract four years of sythesizers, samplers, 4 part harmonies, choreography and sky high studio budgets.

We hit the want-ad circuit in mid 1989, and after quite a few "interesting" auditions, (Niall from Amsterdam, where are you? What a crazy fun week) we settled down with drummer Pete Levine, fresh from Washington D.C. and Greg Meredith on guitar.

The band, overall, played just thirteen gigs-- listed below, plus one I can recall being at, but can't remember the club.

1990
Jan 2, Outhouse
Jan 9, Steamboat
Jan 15, Cannibal Club
Jan 19, The Club
Feb 9, The Club
Feb 23, The Club
March 1, Cannibal Club
(?March?) 28, The Club
Dec 17, Cannibal Club

1991
Feb 25, Backroom
Feb (?) Cannibal Club
March 17, Thundercloud Biergarten


By march of 1990, Pete had already quit the band in a huff, and Greg decided he was too busy with work and child rearing to want to stick around for another audition cycle, so back to the want-ads we went. We re-enlisted former Beat Meters drummer Dennis Bruhn, and guitarist Bill Baldwin joined the band just long enough to play two gigs, and record a three song demo at Congress House. After he quit, we made one last-gasp attempt to hold the thing together, enlisting long-time friend Ron Tindle to play guitar, but after a year of stop-gap membership, and an inauspicious reception from the local music business (as well as audiences), we decided to give up the ghost in April of 1991.
The Session: The three songs presented here were recently rescued from an 11 year old cassette tape, the sole remaining artifact of that session. The songs have survived suprisingly intact, aside from a persistent hiss, and one brief flutter about 30 seconds into Shape Shifter. I did nothing in the way of remastering, save a small high shelf e.q. added to make up for "softness."
The basic tracks were recorded live in one evening. there were no instrument overdubs. Of this, I am quite proud, as this is the only session where I ever even attempted totally live tracks, and I think we pretty well nailed the essence of what the band was about-- loose, simple arrangements with improvisational sections which we went into with only a vague notion of how we were going to get out. The endings on all three of these songs were semi-spontaneous, and worked up in the studio minutes before. We recorded together in the same room, with only low partitions seperating the amps from each other, and the drums, for maximum communication. Yes, Bill played with all that goop on his guitar, and that's how it sounded coming out of the amp.
We sang the vocals in another evening and mixed the following day. Recorded by Bradley Kopp at Congress House studios in South Austin.
Fretless Bass, Vox: Chris Vreeland
Lead Vox: Jeri Arsenault
Drums: Dennis Bruhn
Guitar: Bill Baldwin
If I can ever track down the orig. 2 inch 24 track I'd like to go back and re-mix these dryer, without all the reverb on the vocals and drums. My only regret is that someone didn't regn me in with the Lexicon just a bit.
(The photos above feature incarnation 1, with Pete and Greg, who were gone before we recorded the three songs presented here.)